Amazon Troubleshooters Bootcamp
Crack The Amazon Catalog Code
Embark on a journey from wherever you are into the depths of Amazon's selling platform with our 6-week intensive virtual BootCamp.

This immersive and hands-on experience is meticulously designed to empower you with the skills to master your catalog management, navigate Seller Central with ease, optimize your operations, and elevate your team's performance. Whether you're a seller, an account manager, an agency owner, or an operator, our bootcamp is the gateway to transforming your Amazon operations and achieving success.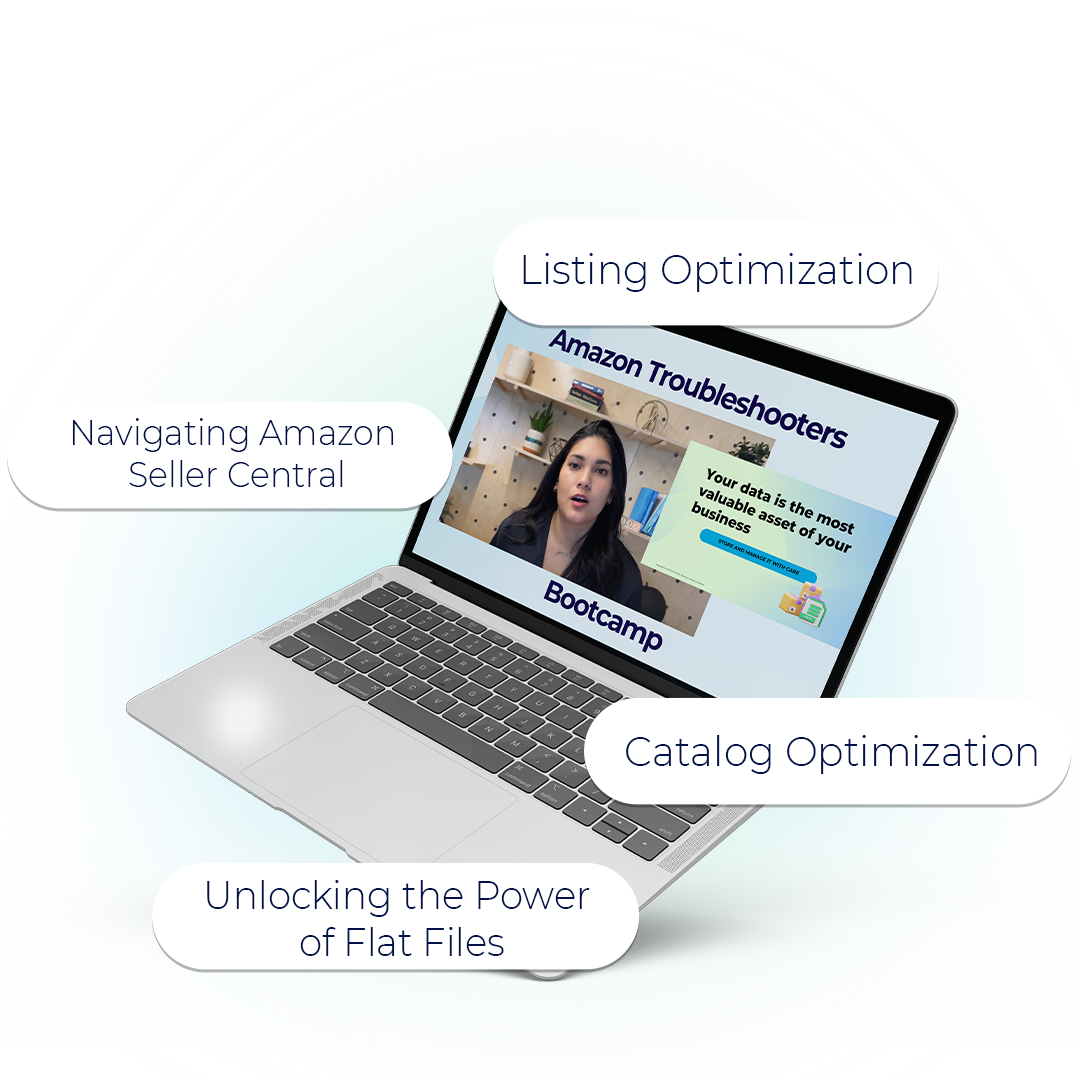 Become an Amazon Troubleshooter
OUR BOOTCAMP IS SOLD OUT!
▪️ Intensive 6-week Virtual Training
▪️ Library of Resources
▪️ Lifetime Access to our Community
New things are coming soon!
Join the waitlist
3 seats
Early Bird OFFER

$

1,999
Regular Price

$6,997
▪️ Immersive Training
▪️ Library Resources
▪️ Lifetime Access to Community
Take advantage before July 25th
SIGN ME UP
What Will You
Learn
?
Navigating Amazon Seller Central: Learn how to effectively communicate with Seller Support and keep your operations running by reducing time-consuming tasks. We'll guide you through Amazon Seller Central, equipping you to tackle any catalog issue like a pro!
Catalog Optimization: Unsure how to maximize your product catalog's potential? Become a listing ninja, adept at managing, troubleshooting, and optimizing your products. Say goodbye to stranded inventory, hijackers, and listing takedowns!
Unlocking the Power of Flat Files: Dive deep into the world of Amazon Flat Files and harness their capabilities with our guide. Leverage these game-changing files to keep the show running and your sales growing!
Listing Optimization for Sales Growth: Feel like your sales are stagnating? We'll show you how to supercharge your listings for increased visibility and boosted sales. Discover new strategies to grow your business without spending a lot of money!
Expert Troubleshooting: Become an efficient, independent problem-solver with invaluable insights from our Amazon experts and real-life case studies. Learn how to quickly solve different catalog issues and keep your operations smoothly running.
6 Weeks

Hands-On experience
Acquire hands-on experience in catalog optimization, Seller Central, Flat Files, troubleshooting, and networking opportunities by signing up for our bootcamp. Gain insider knowledge of Amazon's platform to maximize your profits!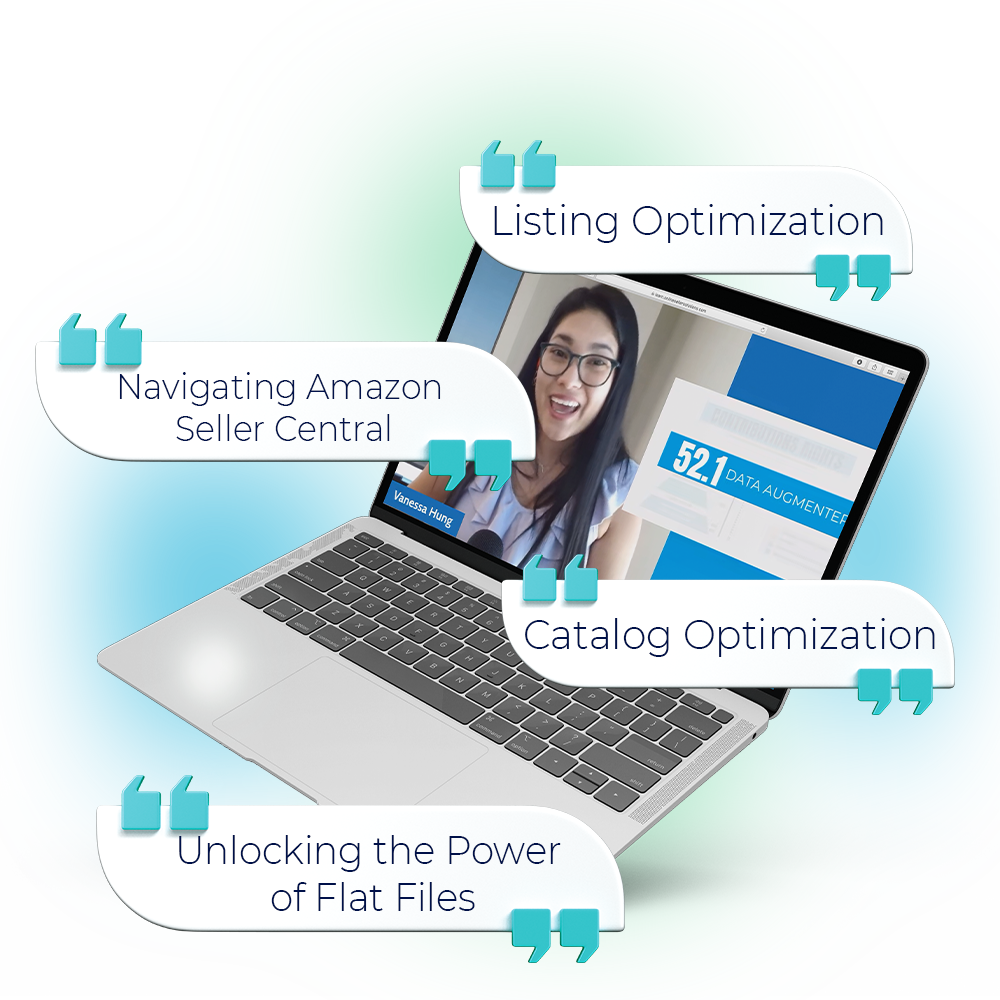 The Amazon Troubleshooters Bootcamp seat provides access to

Expert Insights
In-depth knowledge of Amazon's Seller Central and Support. You will get 10 years of best practices from our team of Amazon experts.
Connect & Engage
Connect with fellow sellers and professionals to brainstorm and solve problems. Engage in meaningful discussions and debates within the bootcamp.
Exclusive Community
Get a lifetime membership to our exclusive Sellerverse Community of Amazon professionals and sellers like you.
Learning Certification
Certifications and badges that boost your professional credibility. Show off your expertise and boost your career in the Amazon space.
Powerful Toolbox
Access to valuable and exclusive resources to boost your productivity and grow your sales.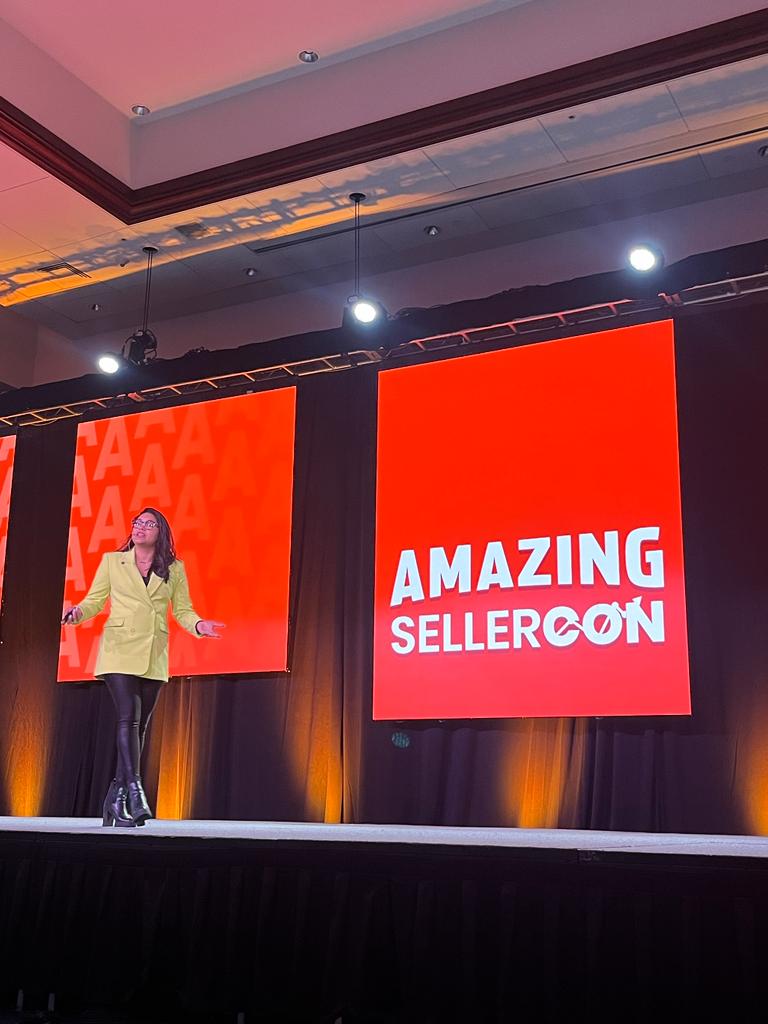 Meet your
Coach
Vanessa Hung is a passionate entrepreneur who founded Online Seller Solutions to help businesses thrive in the Amazon space. Vanessa is a trusted expert and public speaker specialized in all the unsexy stuff of Amazon's backend. She is also a Community Ambassador for Carbon6, a premier ecosystem for eCommerce sellers.
Join Vanessa and learn the best troubleshooting practices!
Make the most of this

incredible journey
This bootcamp is designed to run for 6 weeks, giving you enough time to dive into the content. We value your active participation, so we're eager to hear your thoughts, doubts, and comments throughout the program.
Once all the lessons are finished, there will be an additional week for you to complete any remaining lessons, review the content, and get all your questions answered.
However, please note that the material will no longer be accessible once the bootcamp concludes.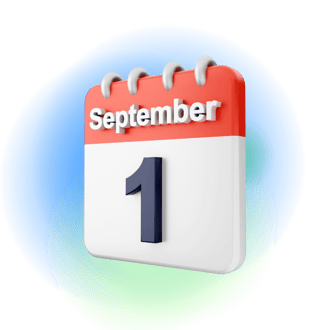 Validate Your

Learning Experience
Showcase your progress with a badge for each module you complete. Once you've finished the bootcamp, you'll receive a Certificate of Completion and Recognition. Show off your new credential on LinkedIn and impress potential employers and clients.
Earn your certificate!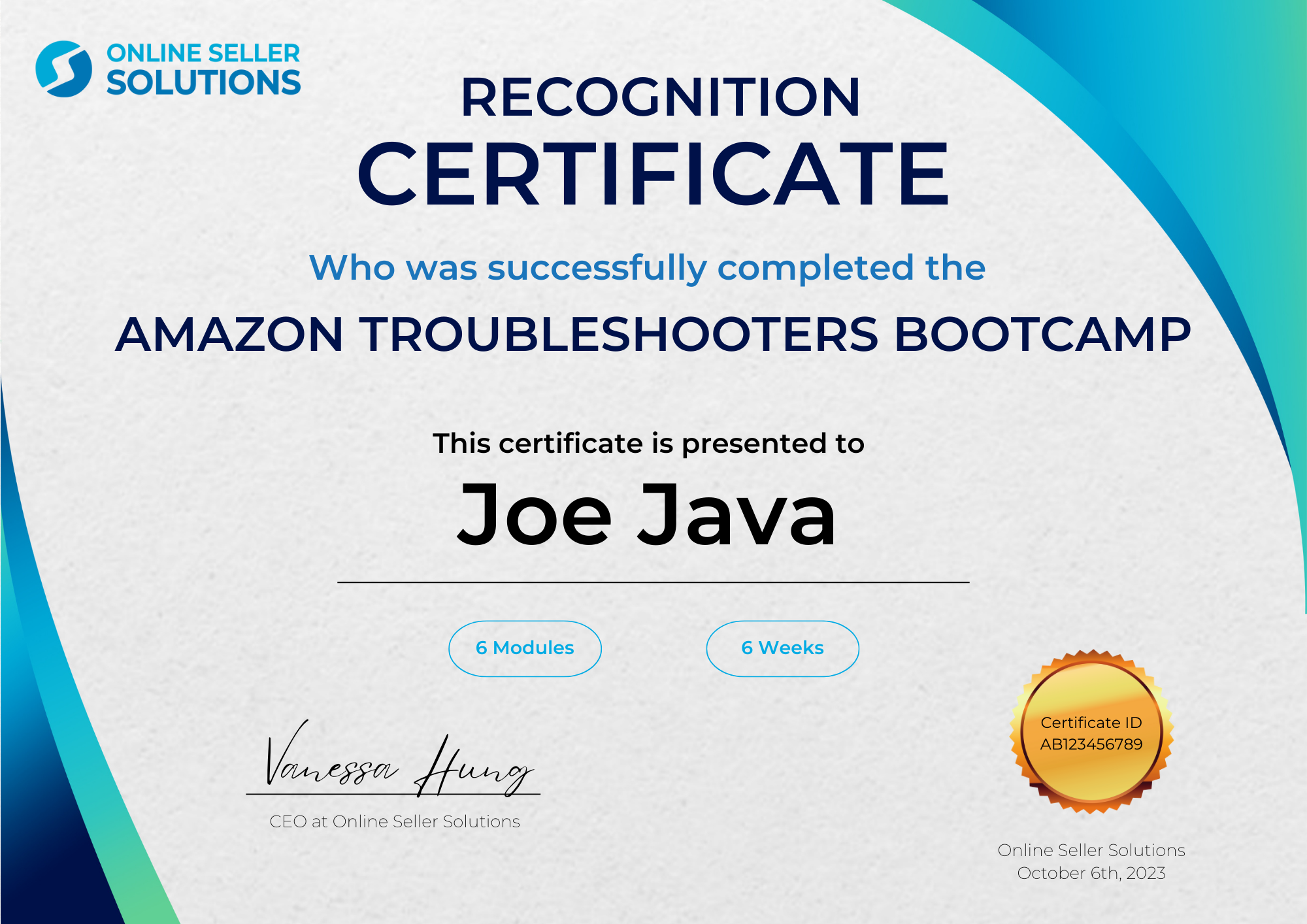 Take Advantage Of Our Exclusive
Pricing
Get your hands on content and resources worth over $30,000 for just $2,497!
Hurry, we only have 50 seats available!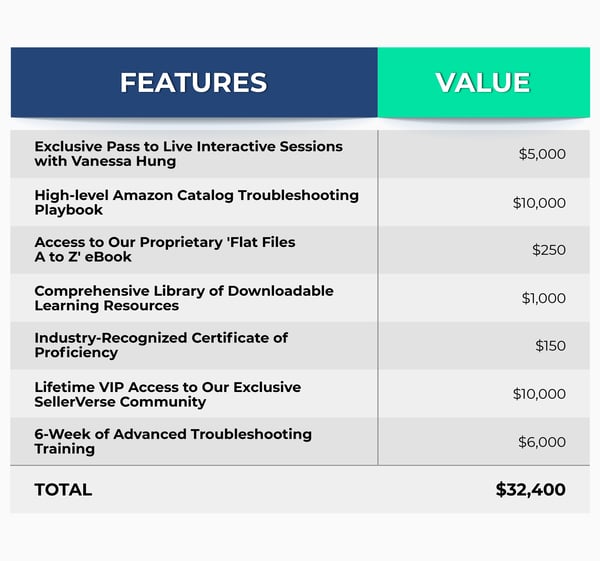 Become an Amazon Troubleshooter
OUR BOOTCAMP IS SOLD OUT!
▪️ Intensive 6-week Virtual Training
▪️ Library of Resources
▪️ Lifetime Access to our Community
New things are coming soon!
JOIN THE WAITLIST
3 seats
Early Bird OFFER

$

1,999
Regular Price

$6,997
▪️ Immersive Training
▪️ Library Resources
▪️ Lifetime Access to Community
Take advantage before July 25th
SIGN ME UP
Real Words: Amazon

Troubleshooters

in Action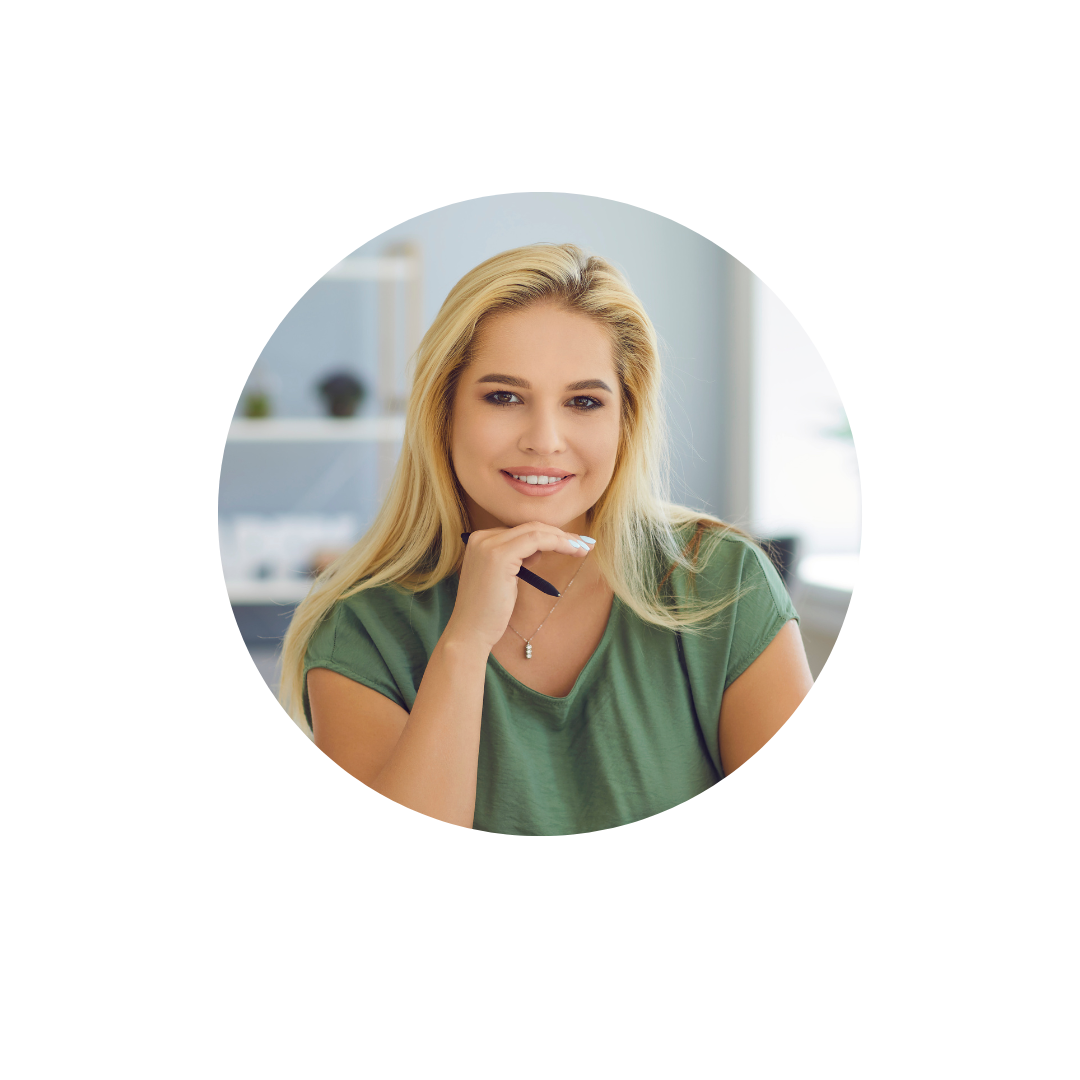 "I wanted to thank you again for the Flat File Training. It was very helpful for our team!"
Kathryn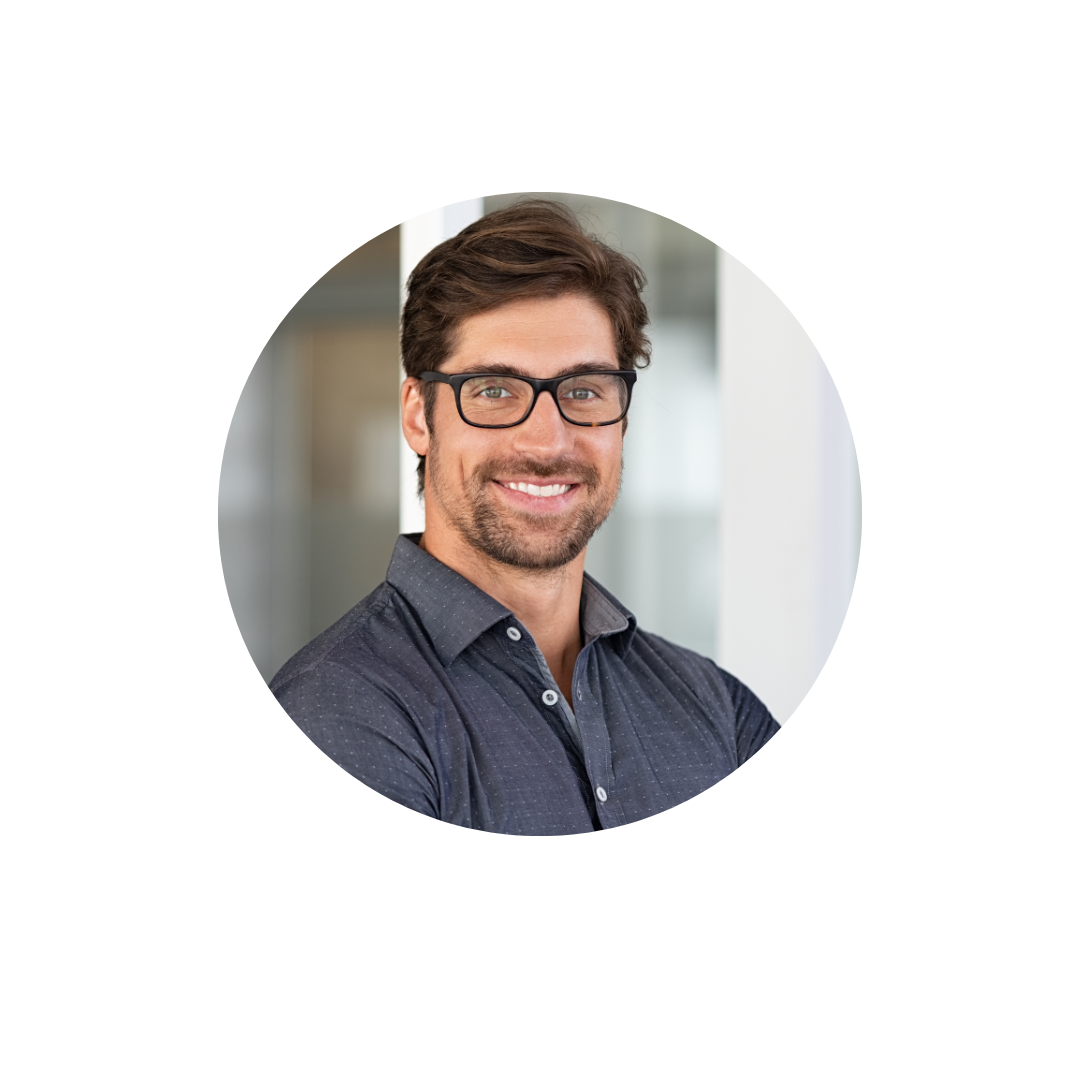 "Great call tonight Vanessa!!
Thanks for dropping so many nuggets of actionable value."
Curtis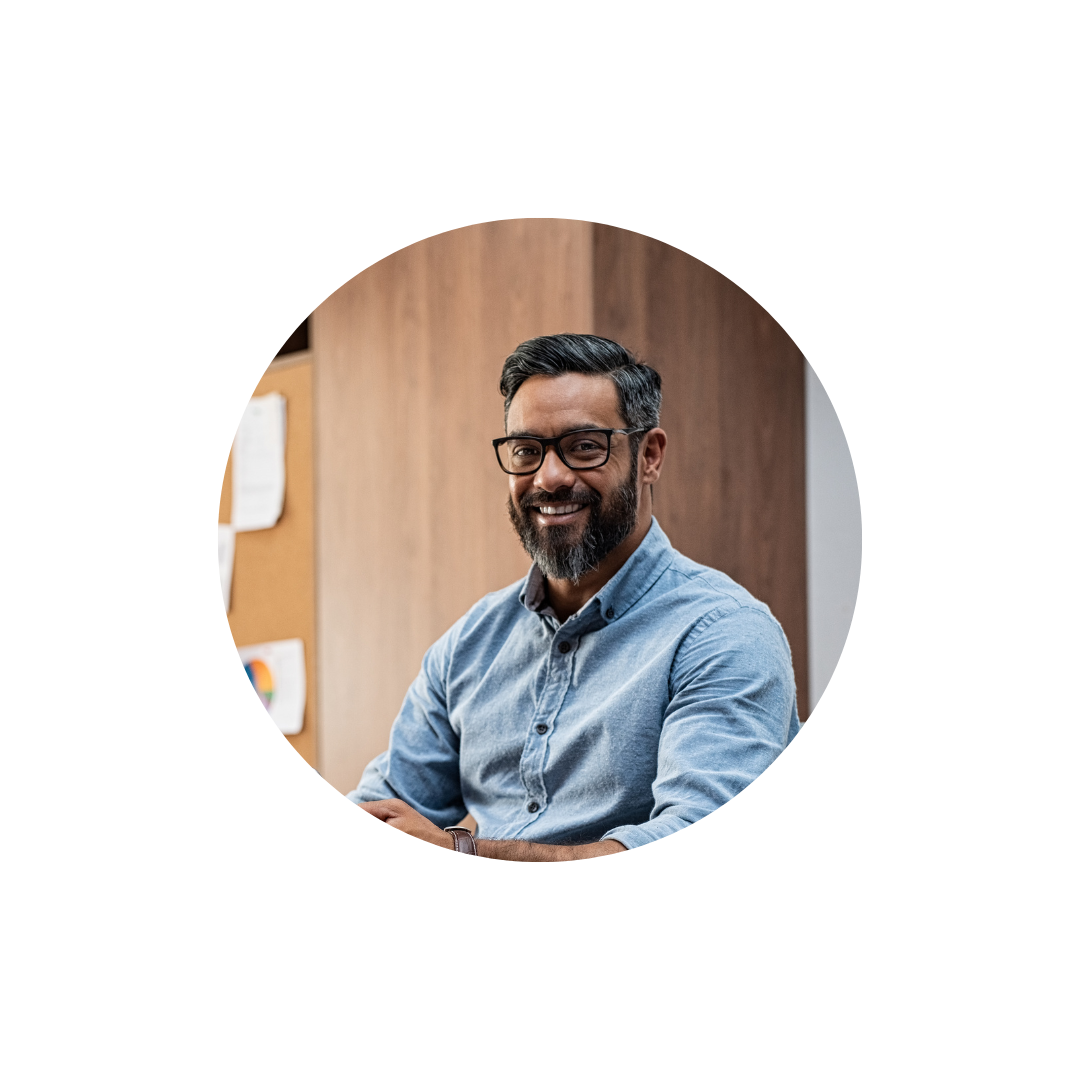 "Today's session was great, I learned so much! Looking forward to the next session!"
Roosh
How is the bootcamp structured and what can I expect?
By joining our virtual bootcamp, you'll unlock a wealth of hands-on training sessions, both on-demand and live, facilitated by Vanessa Hung herself. The curriculum is designed to provide a comprehensive understanding of catalog optimization, Seller Central, Flat Files, and crucial troubleshooting techniques. As a bonus, you will also become a part of an exclusive community of sellers and Amazon professionals just like you.
What's the schedule and timeline for bootcamp?
Our bootcamp kicks off on September 1st and spans over a 6-week period of active content. After completing the lessons, you will be granted two additional weeks to wrap up any pending lessons, review the content, and get all your questions answered. This experience has a total of 8 weeks of training.
When will you release each module?
The modules will be released on a weekly basis, with a new module becoming available every Friday, starting on September 1st. The schedule for module releases is as follows: September 1st, 8th, 15th, 22nd, 29th, and October 6th. This staggered release allows you to focus on one module at a time, ensuring a structured learning experience throughout the duration of the bootcamp.
Will I be able to access the modules once the bootcamp finishes?
No, the modules will only be available for bootcampers for 8 weeks, allowing you to review the content and revisit any lessons or materials as needed. This period ensures that you have enough time to process all the valuable information presented during the bootcamp and ask us any questions you may have. You will also be able to retake all the lessons as many times as you wish. However, access to the course materials ceases at the end of this period, so we encourage you to seize the opportunity and make the most of this incredible journey!
Will I be able to download the material?
While the specific material in the bootcamp will not be available for download, you will have access to a comprehensive library of specially curated content. This library includes valuable resources, helpful tables, spreadsheets, lists, charts, and even an eBook on Flat Files that you can download and reference at your convenience.
Will I have direct access to Vanessa Hung during the bootcamp?
Absolutely! As the CEO of Online Seller Solutions and your guide throughout the bootcamp, Vanessa Hung will be actively involved in your learning journey. You'll have the opportunity to participate in live interactive sessions with Vanessa, where you can ask questions, seek clarifications, and gain direct insights from her expertise.
When will the live sessions be held?
The timing of the live sessions will be determined through a community vote. We value your input, so we will provide options for different dates and times, and the session with the most votes will be the one scheduled. We understand that scheduling conflicts may arise, which is why all live sessions will be recorded. If you're unable to attend a session, you can watch the recording at your convenience. Additionally, we will have a dedicated question board where you can submit your questions and get them answered even if you couldn't attend the live session. We want to ensure that you have every opportunity to participate and get the most out of the bootcamp experience.
Will the live sessions be recorded?
Absolutely! We understand that life can get busy, and schedules may not always align. That's why all our live sessions will be recorded. This means you can revisit the content, catch up on missed sessions, or review important topics at your convenience. The recorded videos will be accessible to participants throughout the bootcamp, ensuring that you can make the most of the valuable information shared during the sessions.
How long is each session?
We believe in providing you with in-depth and comprehensive training. While the duration of live sessions will be approximately one hour, the modules within the bootcamp may vary in length depending on the topic. Some modules can include +25 lessons, consisting of videos, guides, and charts that are carefully designed to enhance your learning experience. We want to ensure you receive the valuable knowledge and skills you need to excel on your Amazon journey within a reasonable timeframe.
What happens if I encounter an issue after the bootcamp ends and I don't know how to handle it?
We've got your back! Even after the bootcamp concludes, we're committed to supporting you. You'll have two additional weeks to review the content and ask any new questions. Additionally, you'll have access to curated resources like SOPs, an eBook of Flat Files and guides. Plus, our Sellerverse community is there to provide ongoing support and guidance. Our community members are always ready to lend a helping hand, share their experiences, and offer solutions to the challenges you may face. And if you need even more personalized support, remember that Online Seller Solutions offers a range of services tailored to provide the assistance you need.
Is this bootcamp suitable for beginners or experienced sellers?
While our Amazon Troubleshooters Bootcamp aims to make the content as interactive and easy to understand as possible, we recommend that participants have some basic understanding of Amazon's marketplace dynamics before joining. This foundational knowledge will not only facilitate their understanding of the material but also foster meaningful discussions and debates within the bootcamp community.
Will I receive a certificate upon completing the bootcamp?
Yes, upon successfully completing the Amazon Troubleshooters Bootcamp, you will receive a personalized certificate of completion. This certificate serves as a recognition of your commitment, dedication, and mastery of the course material. Please note that the certificate is granted only to individuals who have actively participated and completed all the required coursework within the designated time frame.
What happens after the bootcamp ends?
Once the 6-week of content concludes, you will have two additional weeks to review all lessons and resources provided and ask any questions. On Friday of the 8th week, you will no longer have access to the lessons but you will be granted lifetime access to the SellerVerse community. You can continue to engage with fellow sellers, access the library of curated content, and stay connected with a community of like-minded individuals.
What is Sellerverse?
Sellerverse is more than just a community; it's a dedicated space for Amazon professionals to connect, collaborate, and thrive together. It's our exclusive network of like-minded sellers in the Amazon sector, where you can engage in valuable discussions, gain insights from successful sellers, and continue learning and growing long after the bootcamp ends. Say goodbye to the noise on social media and join a community that truly understands the challenges and opportunities of selling on Amazon.
Do you offer refunds?
Unfortunately, we do not offer refunds once you have registered for the bootcamp. We encourage you to carefully consider your commitment before signing up to ensure you make the most of this valuable learning opportunity.
Can I share my bootcamp credentials with someone else?
No, each spot in the Amazon Troubleshooters Bootcamp is intended for individual use only. We believe that personalized learning experiences are the most effective in maximizing your growth and success. However, if you're interested in joining the bootcamp with a group, we offer special promotions for teams.